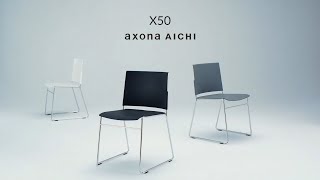 Specifications are subject to change due to various circumstances.
Please contact us for the latest specifications.
Ganging glides capable of placing plural chairs in order are provided as standard.
Inserted felt on the glides protect the surface of the soft floor.
Stack-cart for X50 saves the storage space. Maximum 4pcs are stackable.
SPECIFICATIONS
Backtrest, seat

TPE

Frame

φ13 high-tension steel pipe

chrome plating / baking finish

Glides

Recycled PP/Recycled PP with felt (option)

Stackable

Up to 50pcs on the dolly / 18pcs on the floor

Patent pending

U.S.A., EU, Australia, Asia, Japan

Design patent registration

U.S.A., EU, Australia, Asia, Japan (31 countries)